The following product is taxable. Please call 321-638-1444 for Florida tax-exempt orders.
Solar Water and Pool Heating Manual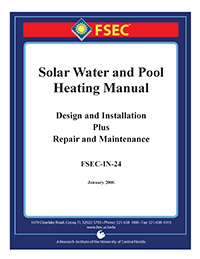 Description
Revised: 2006, Pages: 203
The intent of this manual is to equip the reader with the knowledge and skills needed to design, install, operate and maintain the most common types of solar water heating systems. Use this manual for the Florida Solar Contractor test.